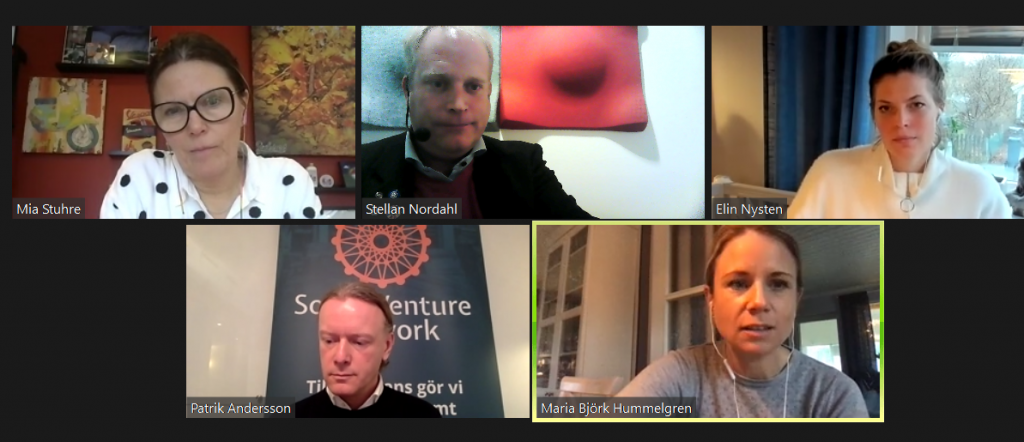 Under många år har första veckan i juli varit vikt åt dialog kring aktuella samhällsfrågor. Just nu befinner vi oss i en tid då vi har stora möjligheter att skapa den framtid vi önskar, och dialogen måste få ta plats.
Vi är så glada över att ha blivit inbjudna till att dela våra erfarenheter från förra sommarens Allmännadalen. Almedalsveckan avser samordna och genomföra världens största demokratiarrangemang 2021 och Mia Stuhre och Elin Nysten från Almedalsveckan hade därför bjudit in till samskapande.
Stellan Nordahl från Emprogage tillsammans med Patrik Andersson Social Venture Network och Maria Björk Hummelgren från Östsvenska handelskammaren delade med sig av sina respektive erfarenheter och insikter från årets olika arrangemang och tillsammans blickade vi framåt.
Emprogages bidrag Ship of a New Story (www.shipofanewstory.com) samlade mer än 60 organisationer i fem dagars direktsändning från fem olika arenor i två kanaler. Totalt hade vi mer än 60 event och vi sände från både Sverige och Danmark dels ombord på elfärjan mellan Helsingborg o Helsingör och dels från studior på Ideon i Lund och från Stockholm.
Östsvenska handelskammaren sände det samlande initiativet <3 Almedalen från Visby med digitala föreläsningar, samtal och utbildningar. Och hållbarhetsnätverket Social Venture Network genomförde alla evenemang digitalt från ett par olika hubbar runt om i landet.
I det gemensamma samtalet återkom vi gång på gång till principerna för Almedalen/Allmännadalen – om dialogen, samhällsfrågorna och delaktigheten. Och en gemensam insikt handlade om principen Både och Och före Antingen eller Eller i både planering och genomförande såväl som i dialog och innehåll.
Både och Och såsom princip ger möjlighet för att omfamna komplexitet. Detta möjliggörs praktiskt i en symbios mellan fysiskt och digitalt. Insikten kring principen och arbetssättet är att personen och spridningen av samtalet är viktigare än platsen och formen för plattformen. Delaktighet och tillgänglighet skapas och frågor kan drivas både lokalt och globalt.
Oavsett programpunkt i form av panel, dialog och workshop, skapar Både och Och en möjlig mix för större transparens, bredd och djup i dialogen kring ämnena. Exempelvis digital intro till workshop som därefter faciliteras på lokala hubbar för att sedan ha gemensam digital sammanställning av key findings.
Att få till både fysiska och digitala mingel bryggar lokalt och globalt. Det skapar tillgänglighet och samtidigt en samhörighet. Det otvungna och spontana samtalet skapas genom nyfikenhet och gemensamt intresse och frågeställningar man samlats kring.
Ett tydligt exempel på amplifieringen är att gå från Almedalen till Allmännadalen. Där den goda förebilden och benchmark utgör 50 års erfarenhet av demokratiskt mingel och smältdegel på Almedalen och där amplifieringen blir Allmännadalen som naturligt omsluter Almedalen och samtidigt tillför nya delaktighetsdimensioner – nya tankar, ny teknik och nya sociala sammanhang.
Ett demokratiskt samtal blir demokratiska samtal!
EMPROGAGE consists of a group of consultants who share the desire to make the world a bit better. Our three words empathy, pro-activity, and engagement do not only form the basis of our business philosophy, but also form our name EMPROGAGE. We believe in the power of the individual to make a better world through their conscious decisions. And together we work for what is best for the world. EMPROGAGE is our context and our meeting place. We are creating the future together.
Emprogage was founded at the end of 2018 and is collectively owned by 15 Emprogagers. Emprogage's way of working is self-organizing and co-creative. At the beginning of 2018 over 40 people were involved in the design of Emprogage. Emprogage is perceived as a web of life – we use the tree as a metaphor. An adaptive and fluid cell structure provides Emprogagers as well as Co-creators the opportunity to engage in projects they perceive as meaningful. The ownership of Emprogage is through the individual companies its members have established themselves. That means Emprogage is at the same time a personal company as well as a collective. The aspect of non-duality is found in many aspects of Emprogage's way of working, for example in the collective leadership responsibility and decentralized decision-
The Emprogagers have experience in facilitation, transformation work, and leadership development and are involved in many co-creations. For an overview of services and currently involved projects visit Emprogage.com.