Emprogage is a complex living organism – represented by a tree – that as an entity has its own consciousness. It consists of the members, the Emprogagers and Co-creators, and their relations with each other. At the same time, it is more than just the sum of its people and their relations. The difference between that sum and the consciousness it possesses can be described as Emprogage.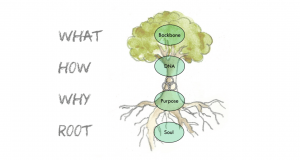 Listening to the pulse of Emprogage
This video shows how Emprogage, a co-owned and co-creating consultancy company based in Malmö, Sweden, organizes work. The organization is perceived as a web of life – the metaphor used here is a tree. An adaptive and fluid cell structure provides its owners (Emprogager) as well as Co-creators (Consultants and Customers) the opportunity to engage in projects they perceive as meaningful and are in the direction that is best for the world. The ownership of Emprogage is through the individual companies its members have established themselves. That means Emprogage is at the same time a personal company as well as a collective. The aspect of non-duality is found in many aspects of Emprogage's way of working, for example in the collective leadership responsibility and decentralized decision-making.
Emprogage's DNA is grounded in its guiding principles of Empathy, Proactivity and Engagement. Together with the organizing principles and their contextual application they provide an understanding and experience of Emprogage's culture of openness, learning and co-creation.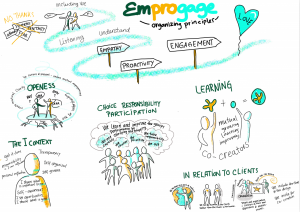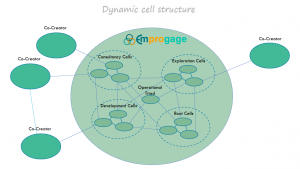 Using the guiding and organizing principles as design criteria Emprogage organizes life in a dynamic cell structure, which gives Emprogagers and Co-creators the opportunity to co-create across organizational boundaries. This life affirming ecosystem setup, where humans can be their whole selves, amplifies innovation and togetherness.
In the video on the right, our Emprogagers Stellan Nordahl and Jens Rinnelt dive into Emprogage's way of working in-depth during the Best for the World Live Broadcasting.
The Emprogage Being Document provides a holistic experience of Emprogage and comprehensively describes the four functions (ROOTS, WHY, HOW, WHAT) as one web of life.