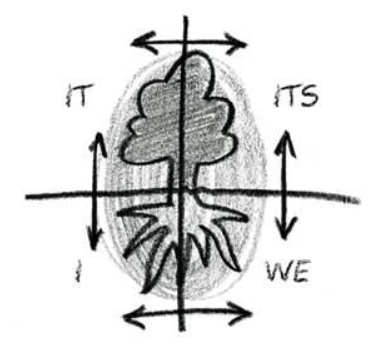 One of the design criteria for Emprogage is Ken Wilbers Tree metaphor model called AQAL (All Quadrants All Levels). The outer world in the model is represented by IT and ITS and the inner world is represented by I and WE. The four quadrants are the fundamental perspectives of any occasion, and for Emprogage it is how the world is both perceived and created.
A holistic and non-dualistic worldview
The Tree Metaphor represents a holistic perception of the world. It describes how we make sense of the world and understand its patterns.
Ken Wilber's AQAL model keeps the complexity of any living system, while explaining different functions that appear simultaneously in any given context.
As it describes a holistic worldview and does not reduce the complexity of a system, it thus provides an alternative to any linear model or perception of the world.
The Tree Metaphor provides us with fundamentally different assumptions about how we experience the world, and it provides an alternative to the machine metaphor that defines the paradigm that is currently phased out.